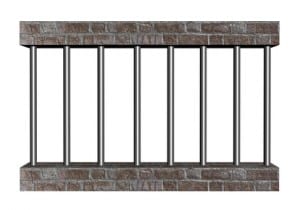 I was going to jail. It was my last supper. A festive occasion. Tables were laden with food and my unconcerned friends and family were mingling amongst themselves.
The policeman were feigning kindness. I could detect the insincerity behind those plastic smirks. The tension behind their manufactured socializing indicated that they were privy to the crafty escape plot that was inevitably brewing.
The time was drawing near for me to be sent away. My nerves were racked picturing heavy metal handcuffs being slapped around my wrists.
I walked towards the entrance of the party with the guards on my heels.
I thought about what life would be like if I was locked in prison, reflecting on the time I had already done. My shaky hand reached for the doorknob.
—
In 2011 I started working at Accenture, a big consulting firm. Though I wasn't ecstatic about being at the bottom I was excited to climb the rungs to the life I had always dreamed of…sitting in the corner office wearing an expensive suit, signing off on the next big deal. Read: big paycheck.
I enjoyed the healthy salary and the opportunities it allotted me. But I begin to hate it for good reason. I would wake up before dawn, get to my desk in time to talk the team in India, schmooze with the boss I had no respect for, and jam on spreadsheets. Suffocation felt imminent until the day I left.
—
I quickly pulled my hand away from the doorknob when I realized the guards were right behind me, and that my (first) attempt had been foiled. I would have to work if I wanted to break out.
I thought about what life would be like after breaking out of jail. I would always be on the run.
But despite being constantly anxious, I wouldn't be in jail.
As I sat plotting my second escape, I realized I would sooner sacrifice my life than end up behind bars. Even though my chances of evading a prison cell were slim to none, I had to try.
As I mustered my courage to break out, I woke up.
It was 4:30am. As I lay awake staring at my ceiling, I reflected on what life had been like outside of jail, my newfound career as an entrepreneur. It was draining, exhausting, and at times overwhelming.
But I thrived off the uncertainty and chaos. For the first time in my life I felt like I was doing what I was meant to do. Instead of doing what I was forced to do, I was doing what I loved to do. Instead of processing I was creating.
I realized I was eternally grateful for my life of freedom…even if I would always be on the run.
I knew if I had stayed asleep longer…I would have broken out of jail.