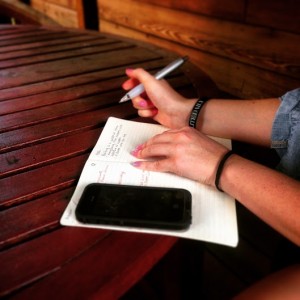 This article was originally posted on Linkedin.
Whether for content marketing or for earning passive income online, there many benefits of writing more content. A lot of people have great book and blog post ideas, but can't seem to start getting their thoughts on the page. They can talk about the topics for hours on end but when they go to turn thoughts into words it all seems to disappear.
I regularly find myself in the same boat. Fortunately, I've found a great antidote: transcription.
Some things are easier to rant about verbally than they are to write. Most people can't write as fast as they think so it can be hard to keep up.
For recording software, I use Audacity if I'm on my computer, or the Voice Memos app on my iPhone if I'm on the go. The mobile app allows me to capture thoughts while I'm on the go and away from my computer, and record while I'm walking to the subway.
I've tried dictation software, but I've found it's more trouble than it's worth.
After I've recorded everything I want to cover, I send it to my virtual assistant to transcribe. There are also a couple transcription gigs on Fiverr.
Then, I send the transcription to my editor, along with some guidance, to turn it into a functional blog post. A few things will need to be re-phrased to be more appropriate for written word. You could do this yourself if you're not as lazy as I am.
Lastly, I proofread and do final editing.
…And boom I have a blog post, without all the tyranny of forcing myself to write.
I definitely recommend this strategy if you're having trouble getting started or finding the time to write, or for topics that are more personal or story oriented.
If your recording comes out disorganized or incoherent, you can re-organize and edit after the fact. Often that's way easier than the initial leap of getting words on the page. Or just hire an editor like I do. However I've actually found my transcriptions come out pretty well because it sounds more conversational.
If you're a real pro at ranting you can turn the recordings into a podcast and get even more leverage.