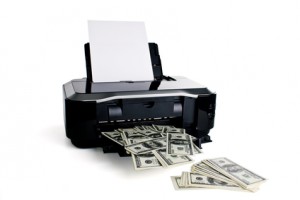 This article was originally posted on Medium. 
Being the underdog can be a huge motivator. Sometimes adversity makes you stronger. Having just $1 is obviously quite limiting. But if you remember some basics and work hard I think $1 can easily be turned into $100. Here are 9 ideas for you:
1. The Most Important Thing You Need to Know About Making Money
Before getting into some specific ideas, understand this principle: You make money by helping people. By adding value to people's life. People pay for products and services that solve their problems and provide value.
It can be hard and expensive to help people. And to figure out what people will find helpful in the first place. But the following are some ideas.
2. Burn the Boats (And the $1)
Fully commit to earning that $100. Burn the $1.
Watch your last saving grace, your "safety net," completely disappear before your eyes. It will be liberating. You can accept that you have nothing and now you must create.
Change your mind shift to creating value rather than spending it. $1 won't get you anything anyways. Not even a cup of coffee (damn inflation.).
Plus if you're like me you play better from behind. As the underdog. It's motivating.
3. Productize your Knowledge: Information Marketing
The cheapest and easiest way to create and sell and information product would probably be to write an ebook and self-publish it on Amazon.
Amazon is an amazing opportunity to make money. They have hundreds of millions of shoppers, many of whom have their credit card information stored and can order with just one click. You used to have to go through the publishing industry gatekeepers but now you can choose yourself and publish at will. Self-publishing on Amazon is like putting an unlimited number of copies of your book inside the world's largest book store.
You won't have the prettiest book, but you can self-publish one for free. If you spent money on it you could earn a lot more than $100, but without spending any money you should at least be able to earn $100.
If you don't have any knowledge that's valuable, skip to step 6. Or…
Since you will be going through the process of turning $1 into $100, you will learn a lot about it. You could write about every single step you take. Maybe there are other people like you who want to turn $1 into $100. If there are, a detailed case study on how to turn $1 into $100 might be worth that $1. Sell it to 100 people and you've made $100. You can use this post as your outline. Just please backlink to me. Then you can turn that $100 to $1000, write about how you did it, and sell that for $100.
4. Knowledge as a Service: Coaching, Consulting, or Speaking
Teach somebody something you know. You don't have to be an expert, you just have to know more than the other person. Offer tutoring or coaching. To get clients, ask people in your network for referrals, go to events where your ideal clients will be, or post on Craigslist.
If you're really good, host your own class. Create an eventbrite page. Get listed on class and event listing sites. Share it on social media. Use the right hashtags. Ask your friends to share it with everyone they know. If you're great, get a company or a conference to pay you to speak.
5. Skill as a Service: Get a Job or Freelancing Gig
You don't have money, but you do have time. Everyone has time. Some people have money. Trade your time for money.
Find someone who has money, but doesn't have time. Such as an executive, business owner, or wealthy individual. Offer to do something that they don't have time to do. Even if it's at Mcdonald's (not that there's anything wrong with working at McDonald's). Could be data entry. Cold calling. Sorting paperwork. House cleaning.
Find clients on elance, oDesk, Craigslist, or through referrals from your friends.
If you don't have any skills, proceed to idea 6.
6. Learn Something That's Valuable to People
It's become cheaper and easier than ever to learn almost anything. You can learn a lot for free.
Go to a library. Read blogs. Go to a bookstore but don't buy anything. Watch Youtube videos. Listen to podcasts. Gain knowledge and skills that are of value to people.
How to figure out what's valuable?
Do research on Amazon to see what books are selling and where there are gaps in the market. Learn that topic. Write it. Self-publish it.
Browse Udemy to see which courses are selling best. Use Google Keyword Planner to see what people are searching for (this indicates demand). Use BuzzSumo to see what articles people are consuming.
Ask people what they need to learn for their job or business. Ask people what skills they want to hire people to do for them.
Then, return to steps 3, 4, and 5.
7. Ask People What Their Problems Are
Remember, people pay for stuff that solves their problems or delivers value to them. Do some customer development to determine what people want.
Provide that value as a service, or build software to provide it as a product. If you don't know how to build software, proceed to idea 8.
8. Learn to Code
There are many free ways to learn to code. By learning to code, you can:
-get a job or freelancing gig that a company will pay you for (just a couple hours of coding will earn you $100).
-build software to solve the problems you learned about in idea 7.
-teach other people how to code (see: idea 3 or 4).
If you ask tech companies what they want, you will quickly learn that they won't coders. A lot of tech companies are more "forward thinking" and won't mind a lack of formal credentials.
9. Use Peer to Peer Marketplaces
If you have an apartment, rent it out on Airbnb for a night or two. Sleep on the street, at a friend or family's house, or make "friends" with someone that wants to sleep with you.
Sell whatever stuff you have on ebay. If you have a car, become an Uber driver. Or provide the services per above through elance or oDesk. Create a gig for it on Fiverr. 20 orders and you've made $100.
You can use homejoy to find house cleaning clients. Become a virtual assistant and get paid to complete menial tasks like data entry.
Key Takeaways:
Provide value to people. Find ways to help people.
Information doesn't cost a lot to provide, but is of value to people.
The Internet has made it possible to gain knowledge and skills for free. Gain knowledge and skills that are of value to people.
Use peer to peer marketplaces to find gigs that people will pay you for.