Automated Outbound Lead Generation: The Complete Guide
Acquiring customers is one the hardest parts of almost any business. I've written a lot about content marketing on this site, but there's another strategy that can deliver some incredible results…
In this guest post, Dan Englander shares all his secrets of how to automate and delegate outbound lead generation in a cost effective way…
Dan Englander is a New York-based author and sales consultant. He's the founder of Sales Schema, which is home base for his books, courses, and articles about sales and marketing. He was the first employee at IdeaRocket, an explainer video animation studio, where we won business with a dozen Fortune 500s and startups like Venmo.  
Take it away, Dan!
---
When it comes to winning sales, tomorrow's results are predestined by what you did (or didn't do) weeks ago.  For this reason, outbound lead generation has to be a continuous everyday effort.  But it doesn't have to be intimidating, overly time consuming, or expensive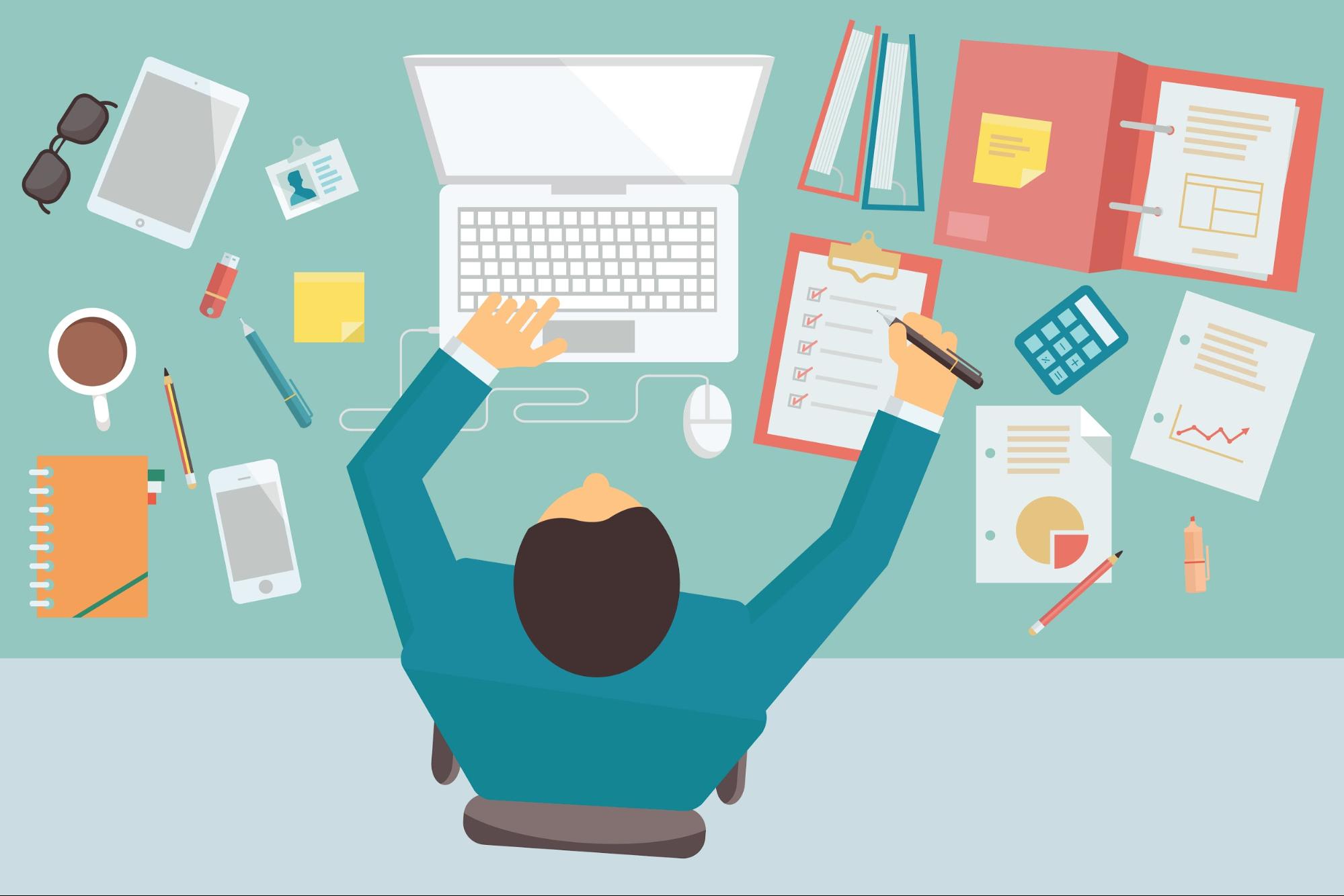 Inbound leads can be ideal for scalability and long term results, but success in this realm doesn't happen overnight.  Top rankings and active social communities can take months or years to build.  Outbound is a much quicker and more direct route to new business.
For me, the path to closing outbound deals used to be pretty hazy.  I didn't know what I needed to do on a daily basis to meet an abstract quarterly sales target.  Finally I determined goals, but the task winning meetings with a ton of prospects every day felt insurmountable.  It didn't happen overnight, but eventually I streamlined my outbound process with the help of apps, outsourcing, and other shortcuts.  Throughout this article, you'll learn how you can do the same.  
First, understand this…
Outbound lead generation is a necessary (and temporary) evil
As Hubspot CRO Mark Roberge observes in The Sales Acceleration Formula:
"Companies watch the effectiveness of outbound marketing tactics decline. Companies watch the effectiveness of inbound marketing tactics increase. Yet companies continue to pour the majority of their demand generation efforts into outbound marketing."
In the face of this trend, you should envision outbound as a pitstop.  Aim to develop a modern inbound engine powered by blogging, social media, ebooks, Google Adwords, and other channels that will generate leads while you sleep.  
Create your buyer journey
Soon we'll get into the nitty gritty of automated lead generation and using tools and templates.  Before that, it helps to take a step back and understand context.
As per Roberge's definition, "The buyer journey represents the general steps through which a company progresses as it purchases a product."
Keep in mind that your buyer's journey will depend on your offering and the group you're targeting.  The steps that a 5-person startup might take before purchasing a SaaS product will differ drastically from the actions taken by a Fortune 500 before purchasing IT services.  
From the last company I worked with, business animation provider IdeaRocket, the buyer journey for a startup explainer video closely resembles this model:
Step 1: Startup achieves funding milestone
Step 2: Urgent need to explain complex value proposition
Step 3: Consideration of different options: animation, infographics, facetime videos, testimonials…
Step 4: Decision on animation; research and provider comparison
Step 5: Present findings to team
Step 6: Provider selected; negotiation and contract terms
This is a valuable first exercise because it will inform everything else.  Later when you draft your outreach messaging, make sure to fit each template to a particular stage and buyer group.  In my example, pushing for a sales consultation at stage 2 would be premature and it might alienate prospects.  On the other hand, at stage 4, offering a useful article or tool about animation would be redundant and unhelpful.   
Set reasonable goals
Maybe you have an abstract sales goal hovering over your head for the quarter.  How should this number inform your daily lead gen efforts?  
To find out, start with this handy lead generation ROI calculator from AeroLeads.  It will let you determine your future investment between inbound and outbound.  You can easily adjust the resources you put toward each channel as you start to see results.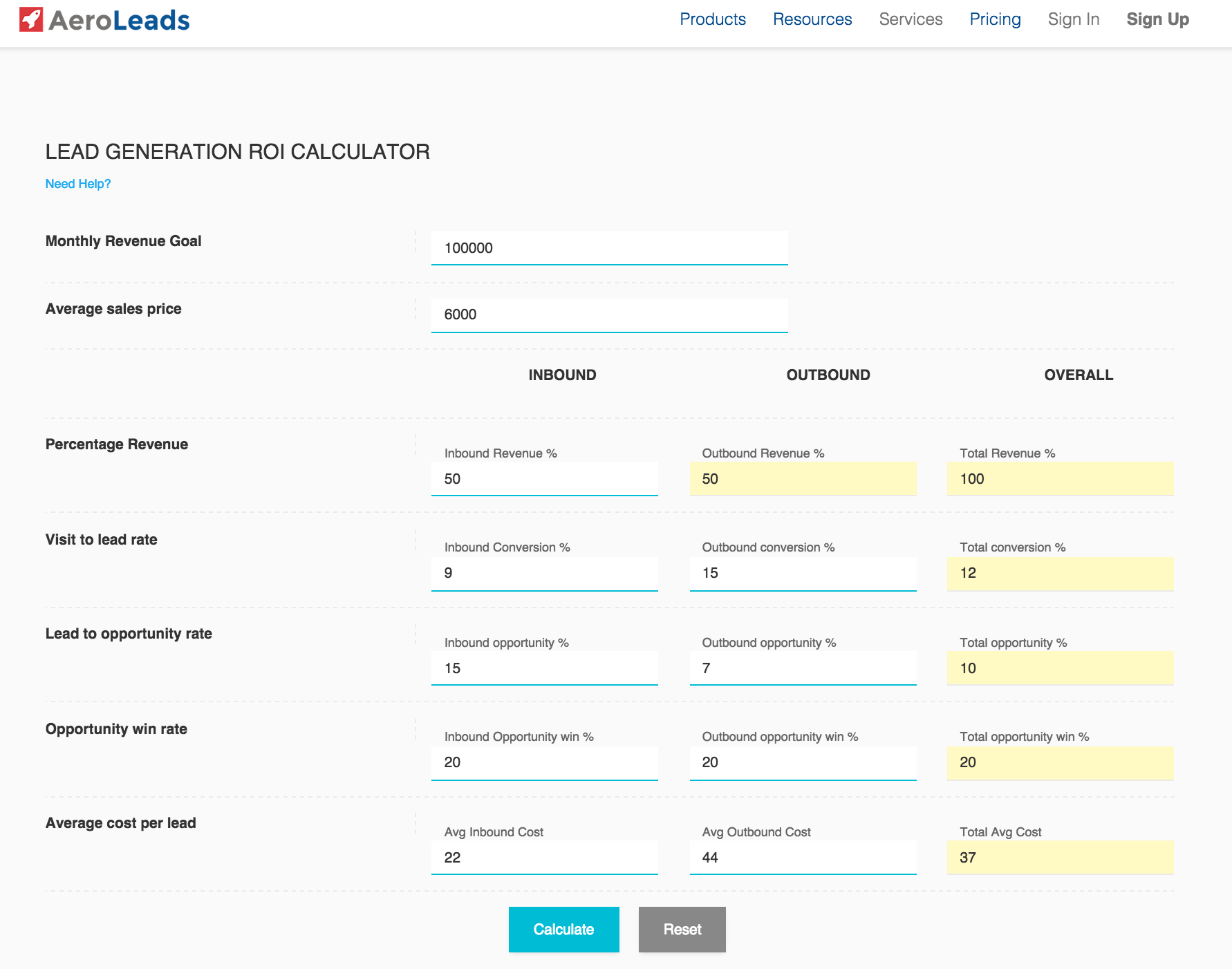 Once you have your inbound versus outbound ROI, give my Lead Gen Goals Worksheet a spin (click file>"make a copy" to input your own data).  Follow the instructions in the spreadsheet to determine how many leads you must contact each day to achieve your long term sales goal.  It will be a rough approximation, but it will help you wrap your head around the scope of your outbound undertaking.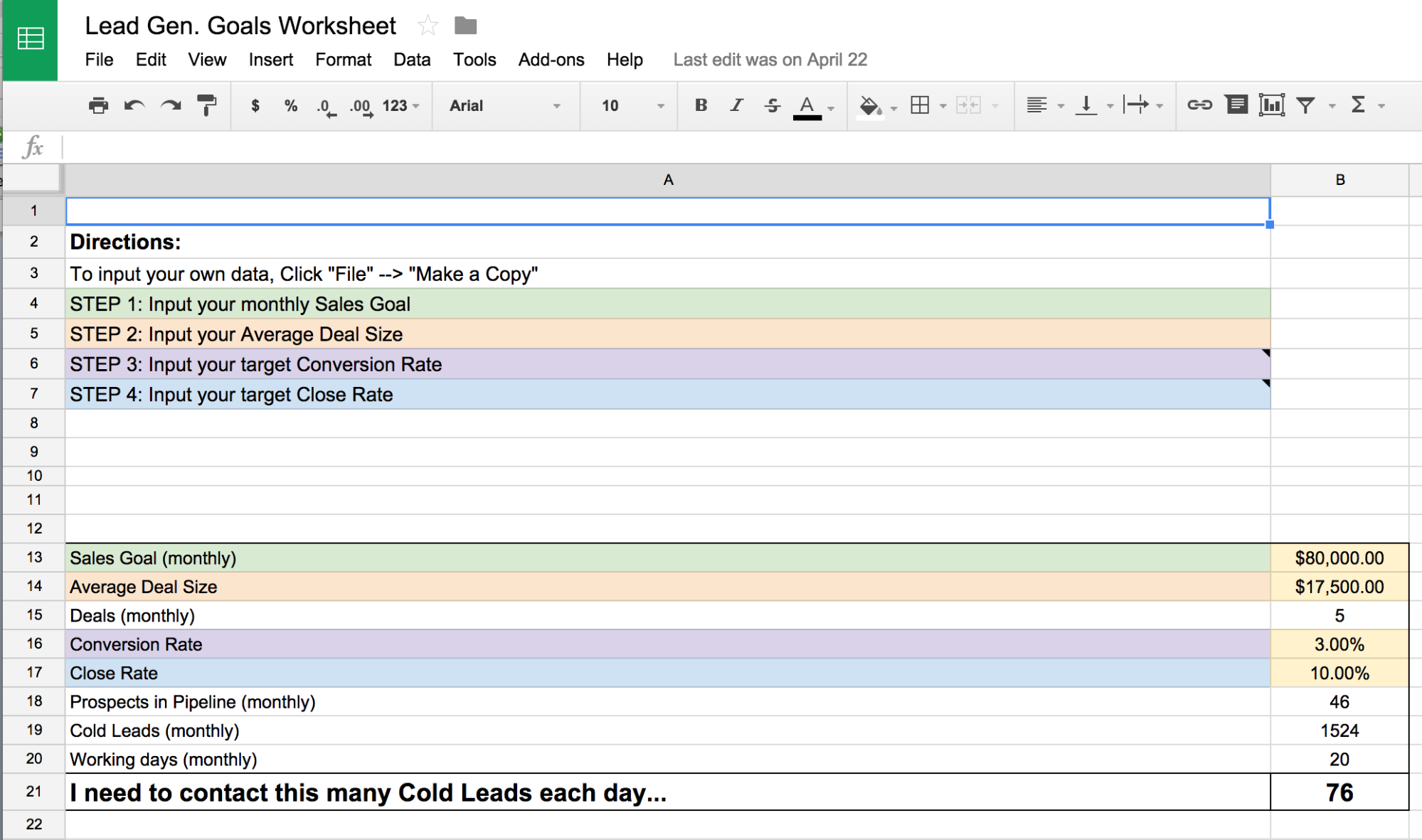 Research
Part 1A: Create company target list
Once you understand your buyer groups and journey stages, and you've determined goals, it's time to build your target list.
As for data collection, you can get fancy with a CRM if you're ready to make the investment (Close.io and Pipeline Deals are my recent favorites).  If not, a Google spreadsheet with columns for company, name, email, and other basic parameters will do the trick for now.  You'll start by filling out the company column.  
LinkedIn should be the sun around which your other research channels revolve.  For example, I might use Crunchbase to find out which startups just got funded (reaching step 1 of my buyer journey from earlier), but ultimately I go to LinkedIn to identify the right people in these organizations.  
Review blogs and news sites for your industry, and use them to inform the companies you plug into your LinkedIn research.  When you're finding company targets, consider major events and milestones that precipitate your solution, like product rollouts, funding, major hires, etc.
If your customers are SMB's or otherwise too small to publicize events, you'll have to dig a bit deeper.  You can look to your personal network and blast out an email or social message. Instead of asking your peers, "Do you know of any companies that need IT services?", you might ask, "Do you know any companies that recently moved into a new office space?"
Or you can go to LinkedIn company profiles for your previous customers, and scroll to the bottom right, where you'll find the "People Also Viewed" section.  Often the companies listed there are your customers' competitors, and thus prime targets.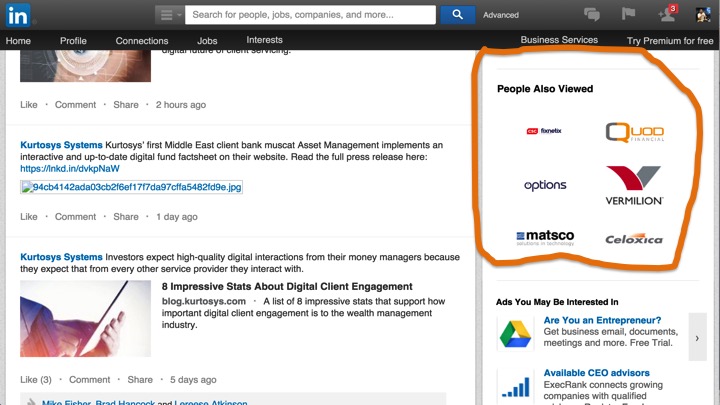 Find as many companies as possible.  You get the best results by casting a wide net and filtering it down (more on this shortly).  For each research session, aim for at least a week's worth of contacts, as per the goals you determined earlier.
Part 1B: Create a job title list
I recommend starting with a company target list because it will let you leverage your past success.  If you won with an IT services company, you can first identify similar organizations, and then drill down to key roles.  Once you make contact with these people, your background in their industries will give you a major leg up.  Also, in my experience, LinkedIn tends to produce more accurate results when you plug in your own company list.
That said, if you're at an early stage, and specific organizations are not as pertinent, then you might begin with job titles, based on the roles of your previous customers.  Just make sure to use the wide to small net process detailed in the next few sections.  
Part 2: Create individual target list
Once you have a fat list of target companies, head to LinkedIn's "Advanced Search" area (linked to the right of the top search bar).  
Plug all the companies you found into the "Current Company" space, and enter a one or two relevant titles, like CMO.  Click "Search", and see what comes up.  You should have hundreds, if not thousands of results.  If your net is too small, then plug in more companies.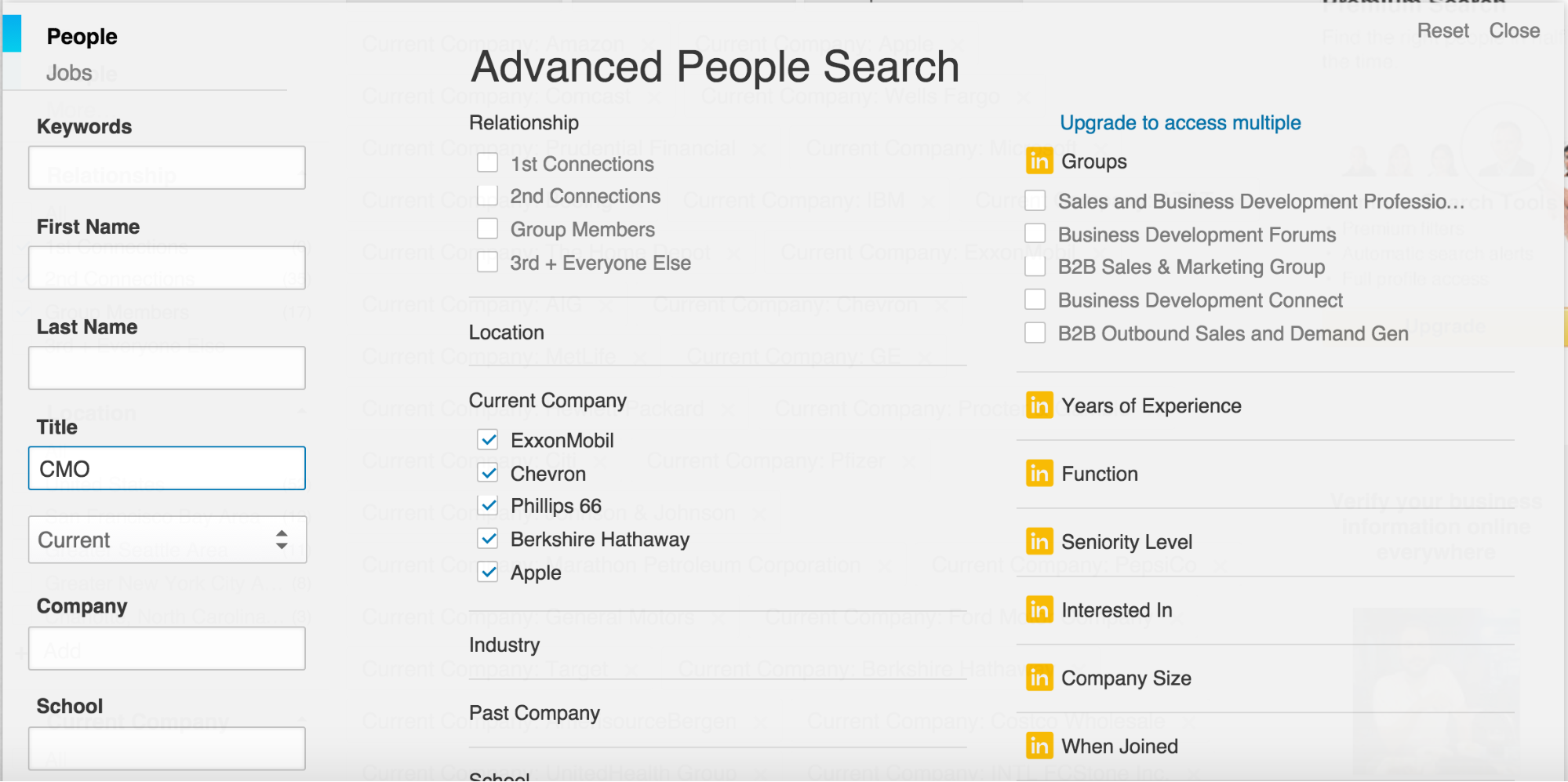 Part 3: Optimize Advanced Search
Peruse a couple pages and make sure you're in the right ballpark.  Next, find 5-6 profiles that look like they're on the money, and open each in new windows.
Scour each one for keywords and titles that relate to your offering or industry.  For IdeaRocket's explainer video offering, I might notice and jot down keywords like these: "multimedia", "audio-visual", and "video", as well as titles like "VP or Marketing" and "Growth Lead".  
Plug this your new data back into the Advanced Search, and make sure the "currently works there" box is checked.  Use boolean phrases to expand your results (ie. "VP of Marketing OR CMO").  Add titles, companies, and keywords to expand your net, and remove terms to shrink it.  Continue to peruse multiple pages until the vast majority of profiles are strong prospects.  Save your search and record your findings in your CRM or spreadsheet: name, company, LinkedIn URL, and any other details you need.  
Part 4:  Find any email address
Most people check their email multiple times per day.  LinkedIn InMails?  Not so much.  The inbox is where you want to be.  There are a few ways to track down addresses…  
The Rapportive method
You'll need two tools: Rapportive (a free Gmail app) and this email permutator spreadsheet (provided by Distilled.net).  This strategy tends to work best for small company targets.
Install

Rapportive

Plug your target's first and last name,, and company URL, into the spreadsheet; make sure there are no spaces.

In a new message, copy/paste the first 5-10 permutations into your "To:" field.

Hover over each possible address; the correct one will populate a pic and social icons in the Rapportive sidebar.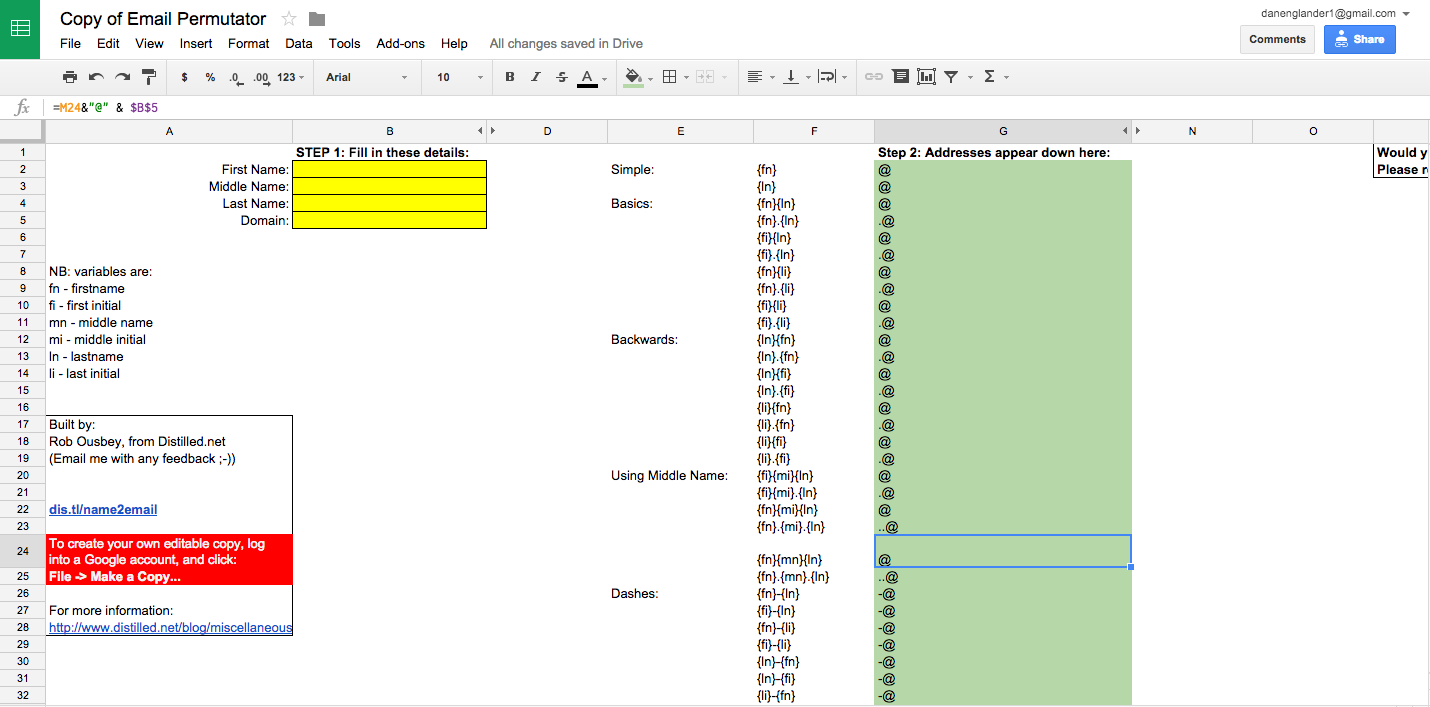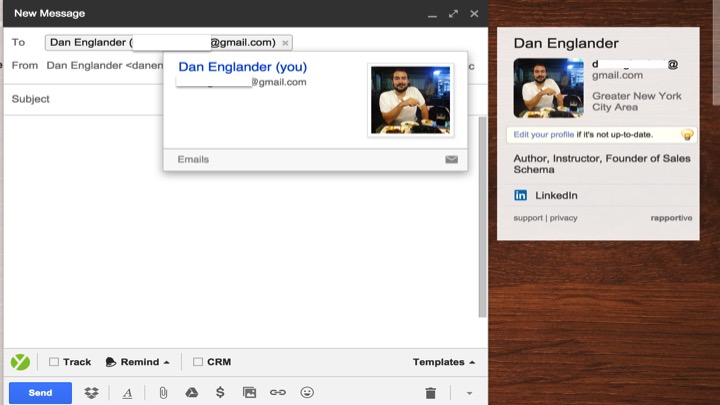 The press release method
I find this works best when you're hunting large company targets.  Many large organizations use a consistent convention across the board: when you find one, you've nailed them all.
Use Google advanced search modifiers to find press releases ie. ("IBM AND "press release""); search through a few pages if needed.

Alternatively, try

PRNewsWire.com

Scan for the correct email convention; you can click Command/Ctrl+F and search for  "@" to quickly find addresses.

Once you find the convention, fit your target's name to it ie. John.Doe@IBM.com.

Test it out using a service like

Verify-Email.com

, or take a chance by sending a message.  The worst case scenario is a bounce-back.
Other methods
You can hire an email research specialist pretty easily through Upwork.  Simply search "email research" or "web research", and you'll turn up many options.  Most range from $3-5/hour.  Stay tuned: we'll dig into the hiring and delegation process shortly.
Also, I've heard great things about Norbert, an automated email research app. 
As a last resort, try a personal email.  Just make sure to tread lightly, and explain why you're reaching out personally.
Stop emailing like it's 1999
I'll admit it: I used to send bad cold emails.  They were too long and self-promotional, and I rarely got responses.  Messages likes these continue to fill my trash can, and probably yours too.  
Snail mail habits die hard, and salespeople are still trying to cram all possible details into the first touch point.  This is misguided because email is more like a real time conversation.  The messages we're likely to open and respond to are those that read like they're from friends or warm acquaintances.
What does this mean for your cold email strategy?
Be brief

: I'm talking 3-5 sentences

Be casual

: make sure your subject line and messaging do not read like marketing copy; focus on descriptiveness and simplicity.

Offer something extremely useful

: articles and whitepapers are okay, but tools are much better.  Look back at your customer journey: what asset would be most helpful at key stages?  

At IdeaRocket, I've offered prospects this

Studio Comparison Chart

and my book,

The Lean Explainer Video

.

Start a conversation

: make sure your CTA is in line with the journey stage: usually a 15-minute sales call is too much to ask at first.  Instead you might ask a thought-provoking question related to your industry.  
I could present one or two templates, but  you would probably have trouble re-interpolating them for your niche.  Instead, I recommend drawing inspiration from this huge template library provided by Close.io.  
Outreach patterns
As mentioned, you rarely want to go for a meeting on your first message.  Instead you should aim for a conversation pattern, which will be based on the buyer group and their journey.  
There's no one size fits all, but here's an ideal pattern for many complex products:
First email

: ask thought-provoking question

Second email

: offer useful tool

Connect call

: follow up about experience with tool; Goal: set up qualifying call

Qualifying call

: understand prospect's needs, budget, time frame, and decision-making process; Goal: determine next steps and accelerate sales cycle

Follow-ups

: keep process moving forward; quote and contract provided when appropriate

Negotiating and closing

: stay involved in decision-making process
It's a good idea to keep your pattern in mind when you're writing your cold emails.  This will let you conceptualize the full scope of your sales cycle, and create messaging that fits into the grand scheme of things.   
Tracking and sending
Once you've created your list and messaging, it's time to get your campaign ready for blast off.  Email tracking software will let you monitor when, where, and how your prospects consume your messages.  This insight is valuable because it will help you follow up at the most relevant time, which is usually when your prospect views your message or clicks to your site from their inbox.  
Here's how to start with email tracking:
Install tracking service

.  Usually they link up to your mail provider and browser of choice.  My favorite is

YesWare

, and that's what we'll focus on.  I use it with GMail and Chrome.  Other options include

Sidekick by Hubspot

and

ToutApp

.

Categorize and load in emails.  Base your email folders on the pattern you determined earlier.  For example, you might include 1st contact>Ad agencies, or Connect call setup>IT managers.
Track your message

.  Make sure to click the "Track" box.  Also, I like to include a link towards the end because all links are tracked by default, and if it's clicked, it tells me that the recipient probably read the entire message.  I might include it like this: "Go

here

to learn more about us."

Follow-up when messages are re-opened.  

Re-opens are a strong sign that interest in your offering is bubbling up. I've won deals by quickly getting in front of old prospects at these critical moments.

Set reminders.  

Feel free to use the reminder feature to schedule follow-ups, which you're notified about in your inbox.  Or you can skip that feature if you would prefer to rely on your CRM or calendar.

A/B test.  

YesWare's website portal let's you monitor performance and see what subject lines and messages are getting the best response. 
Here are some common explanations for worse than expected performance:

Low Opens
Your subject line might look too salesy or uninteresting.  Try a new one.  In my experience, short and straightforward subjects work best.  Envision that you're reconnecting with an acquaintance you met at a cocktail party.Few ClicksMaybe your message is too long or boring and it isn't being read. Or maybe you're sending messages at an inconvenient time. Get your message down to a few sentences, offer a different value proposition, and/or send it at a different time.
Low Responses
Assuming you're getting opens and clicks (ie. it's being read), few responses might mean that either your value proposition isn't good enough, and/or the recipient doesn't feel it's worth their time to respond.  Increase the convenience and value as much as possible.  Or reach out over phone: after all, they read your message and went to your site.
Build your outsourced army
Okay, maybe "army" is an exaggeration.  But you're about to get some major help that will let you multiply your efforts and reach many more prospects than you ever could on your own.
By now you should have your messaging written and your target list ready to go.  Before you can outsource your outbound process, you must completely understand what the task entails.  This means doing it yourself for a period of at least a few weeks.  See what kind of response you get and what tweaks are needed.  Once you feel confident with your process, it's time to get it off your plate.
There are many misconceptions and pitfalls about outsourcing that cause many people to give up or get negative results.  You can avoid them by taking a few minutes to envision the process the right way…
Freelancers are people, not apps
Although you'll hire experienced people, they won't know your unique workflow.  Training and patience is key.  I go above and beyond to make things clear by providing step-by-step written instructions, video tutorials, and short skype sessions before engaging with a new person (more on all that next).
Don't assume understanding, and avoid the temptation to lay blame on your freelancer.  When things go wrong, think about what you can do to explain things better next time.
Delegation is a learnable skill, not an instant solution
Delegation rarely comes natural.  It's a skill like anything else, and you'll have to go through some trial and error.  Knowing this upfront will save you a lot of aggravation.
Your freelancers will outgrow you, and that's okay
Outsourced lead generation virtual assistants come with varying hourly rates.  Most start extremely low ($3-4/hr) and then rise over time as they build a work history.  Expect this to happen, and expand your talent pool so it doesn't hurt too bad when you're priced out.
Hire fast, fire fast
As you'll learn in the next section, there are steps you can take to lock down the best possible talent at the lowest rate.  That said, you won't know if someone is the right fit until you're working with them.  Rather than searching endlessly for the perfect hire, fill the spot quickly, test people out, and let bad matches go as needed.
Ramp up complexity and responsibility gradually
Don't start by throwing your most complex and nuanced assignment at your freelancer.  Start small and simple, and ramp up the obligations over time as you build trust.
Week 1: Hiring
There are many hiring platforms.  If you're ready for a big commitment you might choose a service like Mr. Outsource (Mike's favorite), which streamlines the hiring process.
I think Upwork is the best starting place for most companies.  It will let you find help on a flexible ad hoc basis, and it will give you an intimate understanding of the hiring process.  Since it becomes easier to bring on better and cheaper talent once you've built a hiring history, it's never too early to get started.
Step 1: Create account and post hiring ad
Check out the below screenshots and description for inspiration.  You'll be going for lead generation specialists.  In my experience, these professionals often fall under the umbrella of Virtual Assistants (VA's).
Describe the work to be done…
Hey there!
I'm in need of a lead generation specialist to conduct research and contact targeted prospects.  My goal is to win sales consultations and new business for my company, which is in XYZ industry.
WRITING SKILLS are a must: you will be writing and editing portions of emails.
ENGLISH PROFICIENCY is required.
EXCELLENT RESEARCH SKILLS are a must.  For example, you should know how to FIND EMAIL ADDRESSES based on information like name and website.If you are interested and think you would be a good fit, please answer the questions below:
1.  Tell me about yourself.  What is your work/education background?  Do you work online full time?
2.  What is your experience with writing, research, and the other relevant skills?
3.  Please send any relevant examples of your previous work.
4.  Please correct the following sentence and put it at the top of your application:
Me is look forward to opportunity to be assistant virtual help you generation lead with.
5.  What is your proposed rate of pay?
6.  Where are you located?  What hours are you usually available on Skype?
8.  If English is not your native language, how did you become proficient?
9.  Why should I hire YOU?  Sell yourself a bit.  Don't be shy!Thanks and I look forward to hearing from you!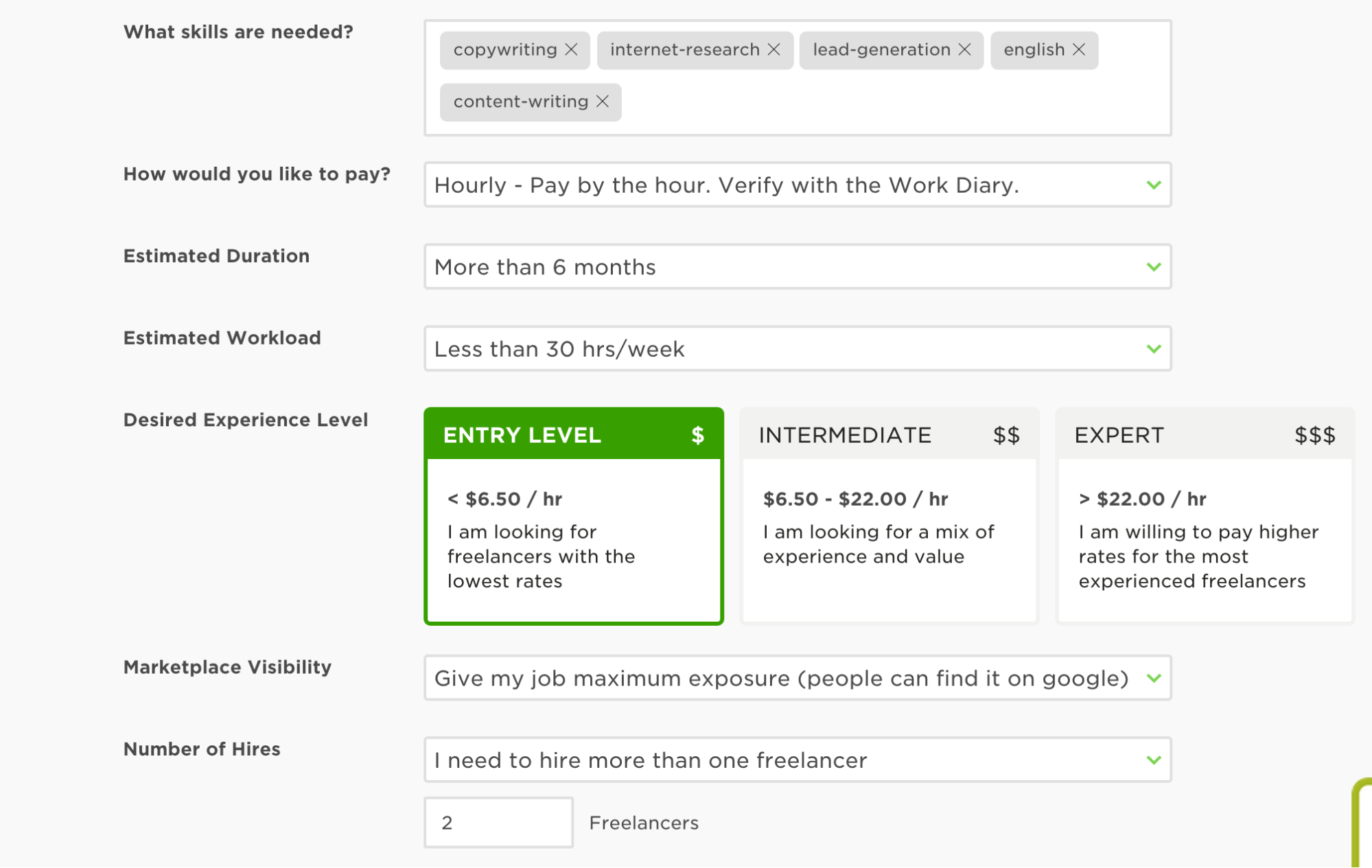 Prioritize writing skills
Writing weaves it's way into everything else.  I find that if a candidate can write proficiently, they're more likely to understand and execute my directions.  Also, it's valuable to have someone you can rely on to make copy changes depending on the situation.
Correct this sentence and put it at the top
This is a golden strategy because it tests direction following ability, meticulousness, language skills, and it allows you to quickly filter people out.
Pricing
I think $3-5 per hour is an ideal starting point for lead gen.  That said, the quality can increase dramatically if you go up by a few bucks.
Since the time obligation is difficult for freelancers to predict, it's usually easier to hire on an hourly basis.  Don't worry: you can put firm limits in place, and Upwork gives you a "Work Diary" feature where you can view screenshots to make sure your hire is actually working when they're on the clock.
Number of applicants
Aim for 2-3 for your initial test round, and hire the winner for further continuing assignments.
Step 2: Invite applicants to apply
Since you don't yet have a hiring history, you'll need to be proactive and sell the opportunity a bit.  Reach out to 20-30 potential applicants, and invite them to apply with a short personalized message.  Use Upwork's advanced search to find the right people.  Focus on lead generation, and hone in on those with at least 100 hours of experience, while staying within your price range.
Step 3: Shortlist
To build your shortlist, send direct messages to the applicants who fit the bill.  Ask them for more details about their experience as it relates to your needs.  The idea is to gauge their responsiveness and comprehension of the assignment.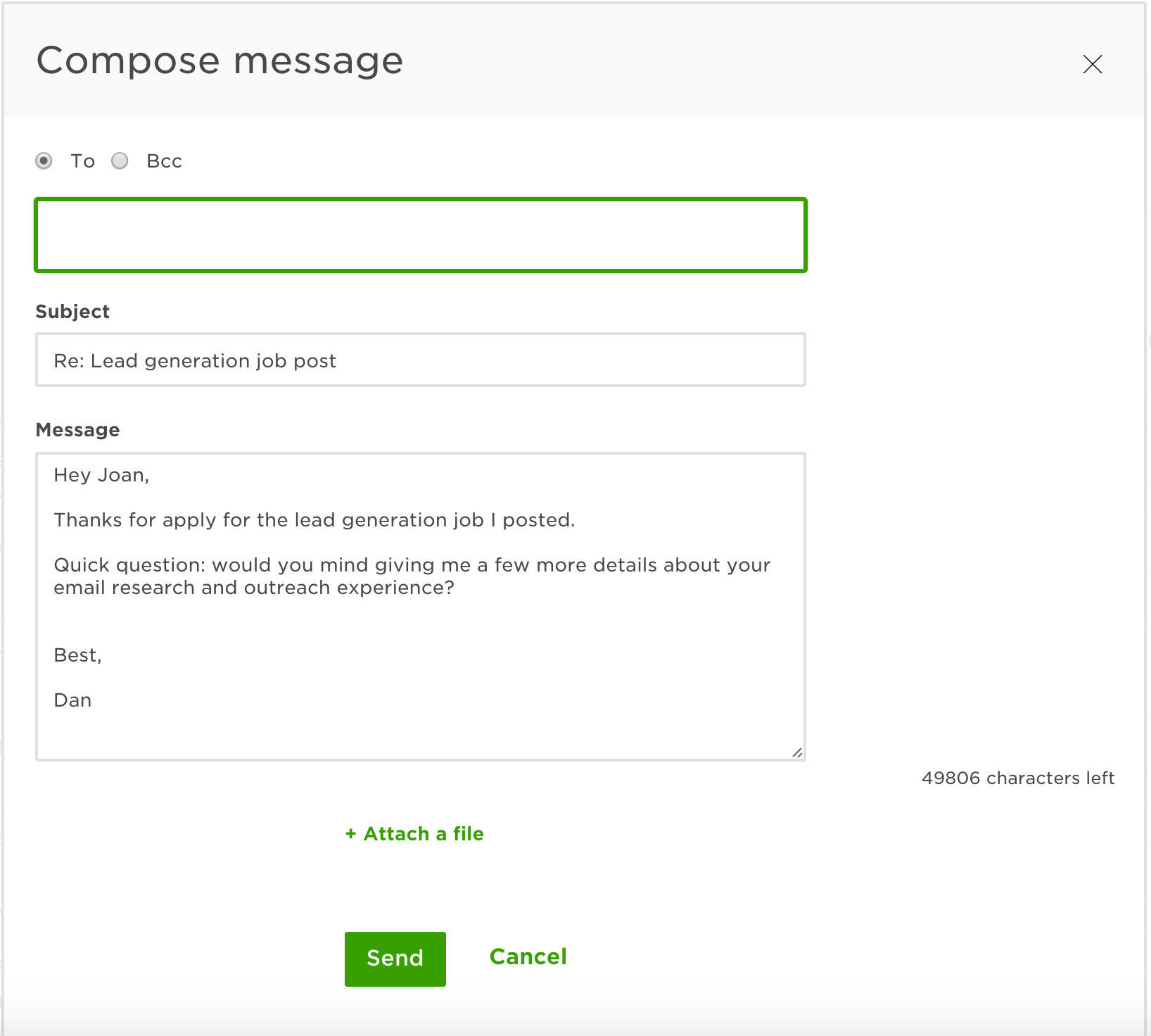 Step 3: Interviews
Send test activity instructions (more on this next) to your top 2-3 candidates , and arrange Skype interviews.  For the sake of getting off and running quickly, you'll use the interview as an opportunity to explain the test activity and gauge their understanding.  This is will be much more revealing than a traditional interview, and if they fit your needs, you'll be much further along in the process.
This applies to all delegation situations, but ask your interviewees to reiterate the directions in their own words.  This will help you dig out previously unknown confusion.  Also, make sure to emphasize your availability to answer questions.  This is not always given because many freelancers feel like they've failed if they have to seek your help.
Though less important, take note of your interviewees' internet connection quality.  If it sucks it may be a recurring issue.
Week 2: Test activities
outsourcing the research process we covered earlier makes for a great first test activity.  The steps involved will depend on your offering and workflow, but regardless, start small and simple: aim for one buyer group.
Ask your assistant to update you after they've completed 10-20 targets.  This will let you monitor progress and help them correct course if needed.
Use video!
This will save you a ton of time, and it will prevent major headaches.  I've found that repeatedly-bungled tasks are often completed flawlessly after video instructions are provided.
Don't worry: they're not hard to create.  The quality can be rough, just as long as you get the information across.  Keep in mind that you can reuse for videos as you delegate the task in the future.
You can record your workflows using a screen and audio capture program like ScreenFlow (Mac-geared) or Camtasia (PC-geared).  From there, upload your videos as private links in YouTube, and give them to your VA's with written step-by-step instructions.
Recently I started creating step-by-step tasks in Asana, including video instructions, which the platform allows you to upload from Dropbox.  The main benefit is creating a task template that can be reused and repurposed many times over.  You can monitor progress while saving your inbox from incessant updates.
Weeks 3-4: Ramp up complexity and responsibility
Once you feel comfortable with your specialists' research abilities, it's time to experiment with email outreach.  Depending on the scope of your outbound needs, you might choose to bring on one or more hires.  You might split research and outreach between multiple people.
Streamline your process as much as possible.  Load up all your outreach messages in your tracking app.  Categorize and title them based on your email pattern from earlier, such as "Prospecting", "Follow Up", "Connect Call Setup", "Qualifying Call Setup", etc.
Here is an ideal task assignment for your hire:
Summary:
Conduct research to surpass our lead quota; use research methods from earlier.
Draft all outreach emails.
After getting approval, send them.
Send [#] emails by the end of the week, [DATE].
Email Editing
[VIDEO INSTRUCTION LINK]
Get setup with our company email address: [EMAIL SETUP INSTRUCTIONS]
Make sure email templates are properly stored and easily available in [EMAIL TRACKING PLATFORM].
For inspiration, review email samples for the targeted buyers: [LINK TO GOOGLE DOC W/ SAMPLES].
Focus on one buyer group at a time; use only one template version throughout each day.  We'll let you know which one.
Compose drafts here: [INSERT GOOGLE DOC LINK] for 5 targeted leads.

Personalize each message: include recipient's first name; make the first paragraph build trust, familiarity, and affection.

Reference recent news articles about the company, LinkedIn developments with the target, recent product rollouts, and other developments.

Let us know, via Gchat or Skype, when you have written the first [5] drafts  Await our feedback and instructions.
Create [20-30] more drafts, and notify us when they're ready.
REVIEW POINT:
PLEASE DO NOT CONTINUE UNTIL YOUR WORK IS APPROVED
Email Sending
8.  For first 5 emails:
Load draft in compose box
Review correctness: all fields are filled in, subject line is correct, free of errors…
BCC or CC this address: [YOUR EMAIL]
Make sure email is tracked
Enter target's email in "To" field
Click "Send"
9.  Enter "Date Contacted" in appropriate column in Target List or CRM
10.  Set a reminder via [TRACKING PLATFORM or CRM] to follow-up in X Days.
Notify us when they're sent, and await our feedback and instruction.

Ask your VA to CC or BCC you, and you can jump into the conversation as needed.
You don't have to offload your entire email pattern all at once.  The initial research, first message, and a followup (to prove you're a human) is the most time-consuming part of the process.
Alternate route: "Custom" Email blasts
If delegating email editing and outreach is too much to handle, you can take the middle road by outsourcing research and sending "custom" email blasts via a mail merge program or Mandrill, a transactional email product from MailChimp.  The downside is the messages won't be as warm and personalized.  But what you lack in quality you can make up for in quantity: you'll be able reach a ton of people with very little effort.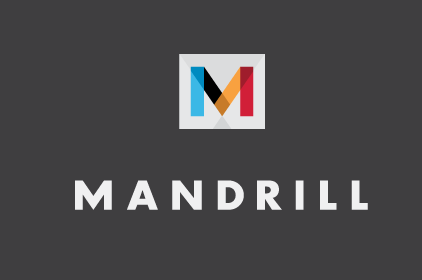 Key Takeaways
Automated lead generation with the help of outsourcing and tools is not effortless or instant, but the rewards are well worth it.  I've won many appointments and several major deals with these strategies.  Also, I've repositioned them to land guest posts and other marketing opportunities.  In my experience, there's a big upfront learning curve, and then it's relatively smooth sailing.
Keep the following top of mind, and the process will be much easier:
Play the long game by building your inbound channels
Create your buyer journey; fit all your messaging to your prospect's needs
Set reasonable and specific goals based on your long term sales targets
Build a super-targeted list by starting with a wide net and filtering it down
LinkedIn is for research only – you want to be in the inbox; find any email with Rapportive and other tricks
Write emails that sound like they're coming from friends and close acquaintances
Create an email pattern that fits your buyer's journey; aim for a conversation
Use email tracking to store templates, test, and follow up at the most relevant times
Hire fast, and fire fast
Start with a simple test activity and gradually ramp up complexity