How to Double Your Email List By Guest Blogging
I've worked with a bunch of different writers that have helped me with all the blog posts and books I've been pumping out. One writer in particular has been extremely active and asking me tons of questions along the way…
He helped me edit my book about guest blogging. Then, a few months later, he sent me an email telling me that he implemented everything he learned in the book and doubled his email list already!
I was super excited for him and I thought it'd be perfect if he wrote a guest post about it. So, here it is. Take it away, Jeremy…
---
I spent a year of my life not eating breakfast. Almost everyone I knew told me that eating breakfast would give me more energy throughout the day. It's not that I didn't believe them, I just never took action. I guess I was being stubborn.
Finally, on a family vacation, I was forced to eat breakfast for a few days in a row. I felt much better. I had more energy and my headaches went away.
Now, I eat breakfast everyday. This made me realize that no matter how many times you learn or hear about something, it doesn't fully make sense until you put it into action.
Guest blogging was no different.
I've known about guest blogging for over five years, yet for some reason I never took action. Instead, I published post after post on my own site. Some posts would drive more traffic than others, but after two years of blogging, I had nothing to show for it.
Then, I read a book about guest blogging and I figured it was time to give it a try. Afterall, what did I have to lose?
After one guest post, my email subscribers doubled. Here's how you can do the same.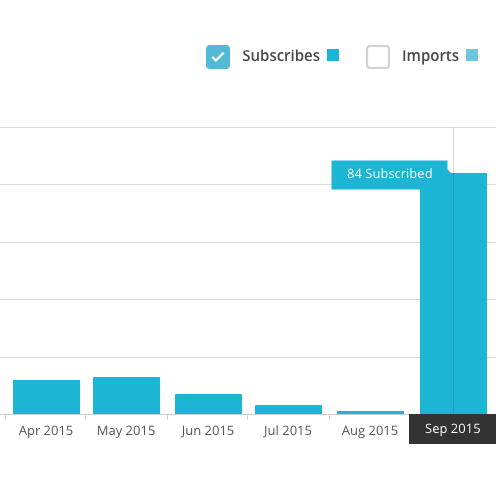 Step 1: The Pitch
I knew it would make the most sense to go after the biggest blogs, but I didn't have the confidence to do so. I wanted to think of something unique and clever. I started to ask myself, "What unique story can I tell that no one else can't?"
I realized that my experience on a Vietnamese reality TV show was pretty unique. But, I was still a little scared that no one cared to hear about it. I knew that language learning blogs would be a topic that is similar, so I looked up a few of them.
My goal was to get on the biggest language learning blog, Fluentin3months.com. But, I wasn't confident that they would take my post, so I contacted a smaller language learning blog first.
My outreach email was horrible. It was long, wordy, and all over the place. I gave five topic ideas (way too many).
But, within just a few hours, I got a nice response that I could write a guest post!
It was almost too easy. The next week, I sent him the post and it was published on Lingholic.
That post got me 5-10 subscribers. This was nice, but I knew I needed to go after bigger sites if I wanted bigger results.
Takeaway: Go after big blogs early on.
Step 2: Refine The Pitch
With one guest post behind me, I finally had the confidence to aim high. But, here's the secret, you don't need to start small. You can go for the big sites right away.
I realized that Fluent in 3 Months had an entire page dedicated to guest posts, so I simply followed their directions.
On this page, it had specific directions on what to do, so this made it much easier on my end. Many other sites have similar pages.
Since it's a language learning blog, I knew it had to be both entertaining and valuable. I tried to think about something I could teach that was unique to my own language learning experiences.
I sent in the a pitch and tried to be as creative and unique as possible. My topic ideas were pretty out there. Two of them were, "How to perform stand up comedy in a foreign language' and "how to go on a reality TV show in a foreign language."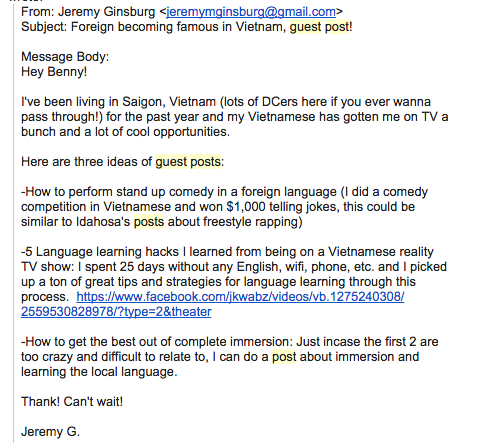 I was nervous, but I sent in the post anyways.
Step 3: Follow Directions
That week, they got back to me and said they wanted to work with me. But, first, I had to come up with an outline of the post. The editor kept reminding me that they had the final editorial note. I didn't care, it's their blog, I just wanted to get my post published!

I've never written a post outline before. Maybe for myself, but I've never done it for someone else's blog. That meant it had to be neat and organized. I didn't enjoy doing this, but I knew that I had to.
After working closely with their content manager, I finally got my outline approved.
Step 4: Write an Epic Post
Once I got approved, it was time to relax and drink a cold beer, right? Absolutely not!
This is where the hard work begins. I had already spent all of this time on the outline, so I needed to write a kick-ass post.
To do that, I included unique content that I've never written about. I talked about things such as getting fired, something that most people didn't even know about me. I spent a few weeks editing and drafting this post. It was filled with actionable advice, but also contained personal stories and emotion.
Takeaway: Write epic content for guest posts
Step 5: Prepare for Landing… (Page)
Since I don't have any products or templates I can give away for free, I decided to offer a free copy of my ebook once it was out. Here's the secret: at the time, I hadn't even started writing my book.
I knew that an opt-in for a free book would convert much higher than a newsletter update or something along those lines, so I went for it. In order to capture as many emails as possible, I knew I needed more than just an attractive lead magnet (bribe).
Next, I created a customized landing page specifically for Fluent in 3 Month readers. It was simple and only took me about ten minutes to create. At the time, my website was a mess, so I even addressed that on the landing page.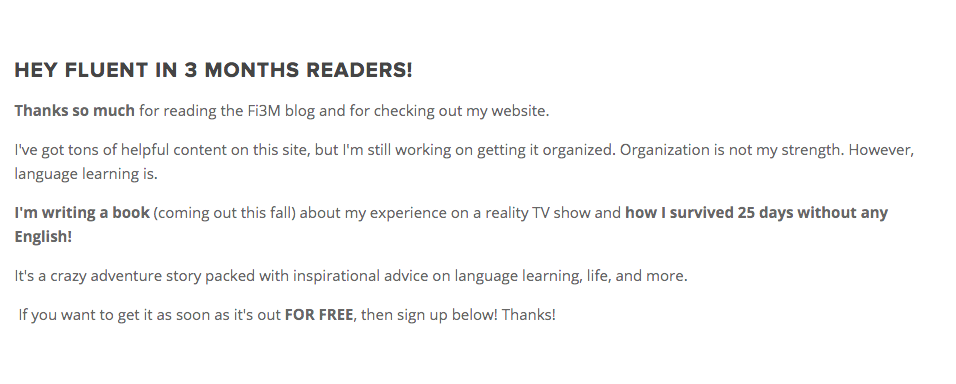 Step 6: Wait (Patiently)
After the post was finalized, it took about 2-3 months before it was finalized. I sometimes waited weeks before hearing back from the editor. But that's okay. I had to play by their rules if I wanted to get my post in front of their readers.
It was all worth it. The editor sent me a notice about twelve hours before it went live. I didn't have time to prepare anything, but at that point, there wasn't much I could do anyway.
Step 7: Comments and Gratitude
After the post went live, I hung out in the comments area and personally replied to every single comment. Not only does this help out the Fluent in 3 Months blog by engaging, but it also gives me more credibility and allows me to connect with the readers.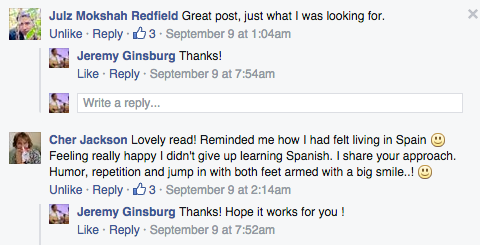 After a few days, I had over 75 new subscribers!
I sent the editor a thank you email, and he responded by telling me that the post went well. He also said I should start thinking of new ideas, because they want me to write another post soon!
Write Your Guest Post
It's crazy how you read about something for so long but it doesn't truly resonate until you do it yourself. Then, looking back you think, "Oh, so it's been this easy all along?"
That's how I feel about guest blogging.
So, what are you waiting for? Guest posting isn't dead. If I didn't believe in it, do you think I would be publishing this post as a guest post? 🙂
It's also funny that I'm able to do a guest post here on Mike's site, because his book was what really forced me to take action. And it's worked well so far!
I also read his book about how to write a book.
So, that's my next project! I'm writing a book called, "F*ck Being Famous."
It's a book about my journey from foreigner to fame in Vietnam in about 10 months. It's about my story and all the lessons learned along the way, the most important one being 'the journey is the destination."
Hopefully I'll be back for another guest post on self-publishing once I finish it!
In the meantime, I'm still gonna be guest posting!
---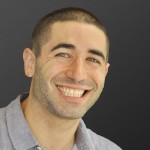 Jeremy is a writer and an "entreperformer". He's writing his first book, "F*ck Being Famous". Sign up here for a FREE copy when it's out.  He also publishes weekly inspiring and funny videos on his YouTube channel.