How to Get More Email Subscribers by Self-Publishing on Amazon
Building an online business without building an email list is like building a house without a foundation. I made this mistake when I first started my Amazon self-publishing business and had to learn quick to prevent it from crumbling.
But I did, I learned fast, and now I can show you 7 steps you can use to build your list right from the beginning.
An ever increasing, engaged e-mail list is the driving force behind any great online marketer. And, as self published authors, our e-mail subscribers can equate to continual customers, which means more sales for our books.
Attracting one time visitors to your site or your book is like filling a leaky bucket with water. They'll look around, hopefully buy a book or two, and then likely move on and never return. The bucket never fills, meaning your pockets never do either.
A much better business model is to convert traffic into continual paying customers. This can be tricky though, so how do I do it? I use e-mail marketing to build my list and continue providing value to my subscribers through autoresponders.
This is a highly effective strategy to increasing your customer lifetime value and boosting sales. I'll walk you through exactly how to do it below.
The journey from Amazon book to email subscriber to lifelong customer
To start, it's helpful to understand, from the customer's perspective, what process they go through from discovering our book up to subscribing to our email list.
First, they find our book, this is usually either by:
1. Searching or browsing Amazon
…by searching for a keyword or getting a recommendation from a product page they are viewing.
2.  Promotions outside of Amazon

…for example BuckBooks and other promotion sites.
3.  Content marketing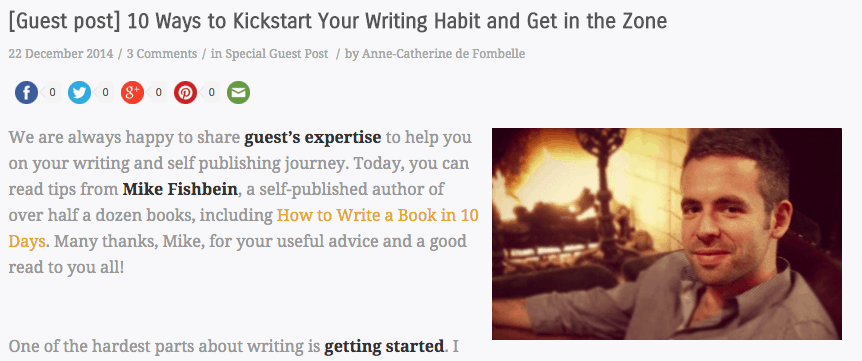 …such as blog posts, slideshares, guest posts, etc.
Once they have found your book, they purchase it and read it. While reading, they see a link to a free ebook you have written, providing more information or further steps. This incentivizes them to give you their e-mail address in order to download it. Remember, you can't just expect their details without providing value in return.
They click on the link through to the landing page where they sign up to receive the free ebook. This adds value to the reader and another e-mail address to your growing list. Now that they are on your list you can send them future promotions, updates, content etc.
To streamline my process, I set up autoresponders so my readers continue to receive content and book sales promotions without me spending anymore time.
Here are the 7 steps you can take to put this all in place:
How to convert your readers into email subscribers
1. Create a squeeze page
I recently switched to LeadPages to optimize my landing pages for conversion. LeadPages makes it really simple to create landing pages that not only look good but convert as well.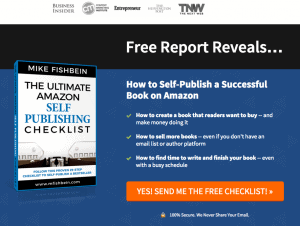 2. Offer an ebook as additional value and an incentive to sign up
This is a very effective strategy for collecting email addresses. Provide something of value to incentivize them to sign up.
I've synched LeadPages to ConvertKit so when visitors enter their details on my squeeze page, they're automatically added to ConvertKit. ConvertKit automates the whole process of hosting the ebook and sending it to the subscriber for me. Subscribers get an email like the one below to download the pdf: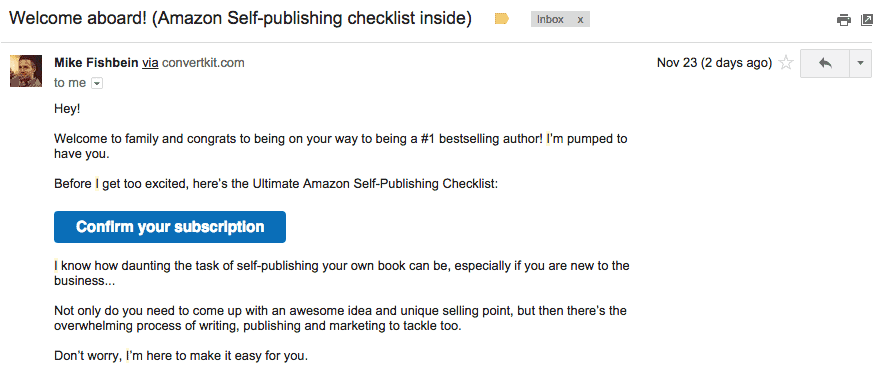 3. Make it compelling with copywriting and design
Even if you're offering your ebook for free, you still need to lure potential readers in with great copywriting and design. If your writing skills aren't up to it, hire a writer through Upwork to help you out. On the design side, I use Fiverr to create a 3D cover of the book I am offering.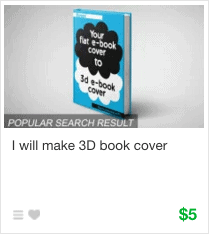 4. Create an autoresponder course
With an autoresponder course, readers continue to get offers and value without you spending more time.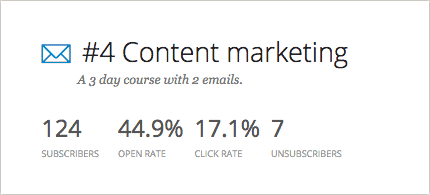 I've created personalized courses according to what they signed up for. So, if they sign up for my ebook on guest blogging, they receive emails that contain advice on guest blogging. They also get links to blog posts I've written where they can learn more, along with sales copy to buy my book.
I include a "soft sell" banner image at the bottom of most emails that looks like this: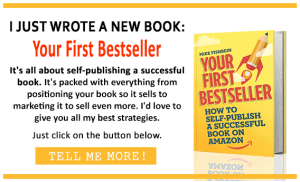 5. Engage with your audience
Autoresponders are a great tool for asking customer development questions so you can create even better content. In my welcome e-mail I include my customer development questions and encourage readers to respond with any topic-related questions they might have too.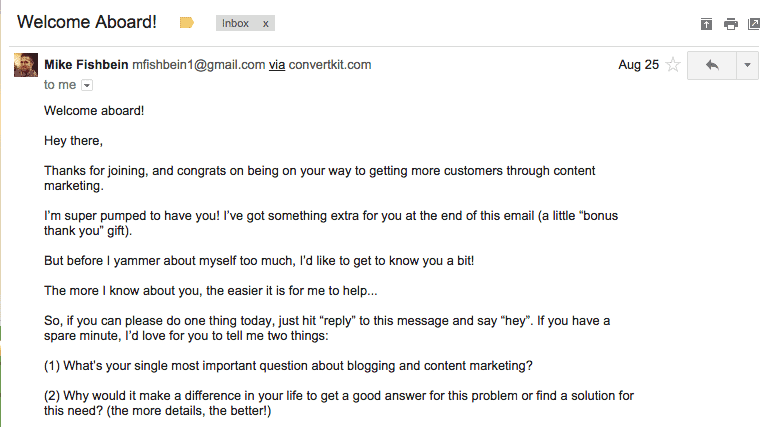 Here are a couple examples of questions I like to ask:
What's the biggest question you have about xyz?

What's your biggest struggle when it comes to xyz?
6. Link to the squeeze page from within the book
Now that you have your landing page and autoresponder sequence set up, it's time to place a link to your landing page in a place where they will see it. In the introduction of my book, I add a link to the free ebook under a subheading called "Additional Resources" or "Your Free Bonus eBook." I link to it again in the conclusion of the book under a subheading called "Next Steps."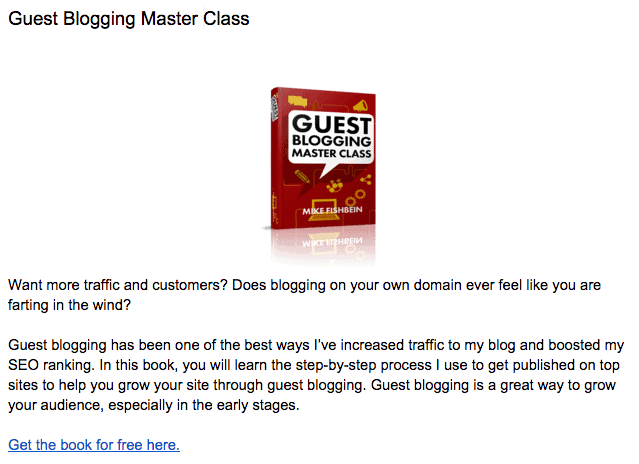 7. Track clicks and conversions
If you're using ConvertKit, you can do this by appending ?ref=YourCampaignName to the landing page URL to create a new campaign. Alternatively, you can use Bitly, the PrettyLink WordPress plugin, install Google Analytics on your page and tag the url you use, or use the analytics provided by Leadpages or your preferred provider.  
Key Takeaways
Self-publishing on Amazon is a great way to reach more potential readers and customers. By converting readers into email subscribers you can continue to market to them on your own accord.
Offering a free ebook provides value and offers an incentive in exchange for their email addresses. Once you start building your list you can use autoresponders to reach readers directly, increasing your reach and your book sales.
Make your book awesome and market it right
Write an awesome book jam-packed with value, and readers will be excited to read more books by you. It will also help you get more readers on Amazon, which will trickle down to email subscribers.
Use an effective marketing strategy to get your book in front of as many people as possible. Download the checklist below to learn exactly how I create books that people want to buy and the market strategies I've used to sell thousands of books.