How to Self-Publish a Book on Amazon
I self-published four books last weekend. A lot of people ask me how to do it…
I use Kindle Direct Publishing (KDP). It's so easy to use. Your book will appear in the Kindle Store within about a day and be available to people all around the world. It's completely free and you get up to 70% royalty on sales. Publishing takes less than 5 minutes and you can make changes to your book at any time after it's live.
You don't have to be a Shakespeare or Stephen King to be an author these days and you don't have to battle with pesky publishers to get your book out there either. I've gone through the process over 12 times now and captured every step to help show you how to self-publish a book. Follow these steps below, and you will have self-published your own book by the end of today.
Step 1: Visit kdp.amazon.com and Sign In or Sign Up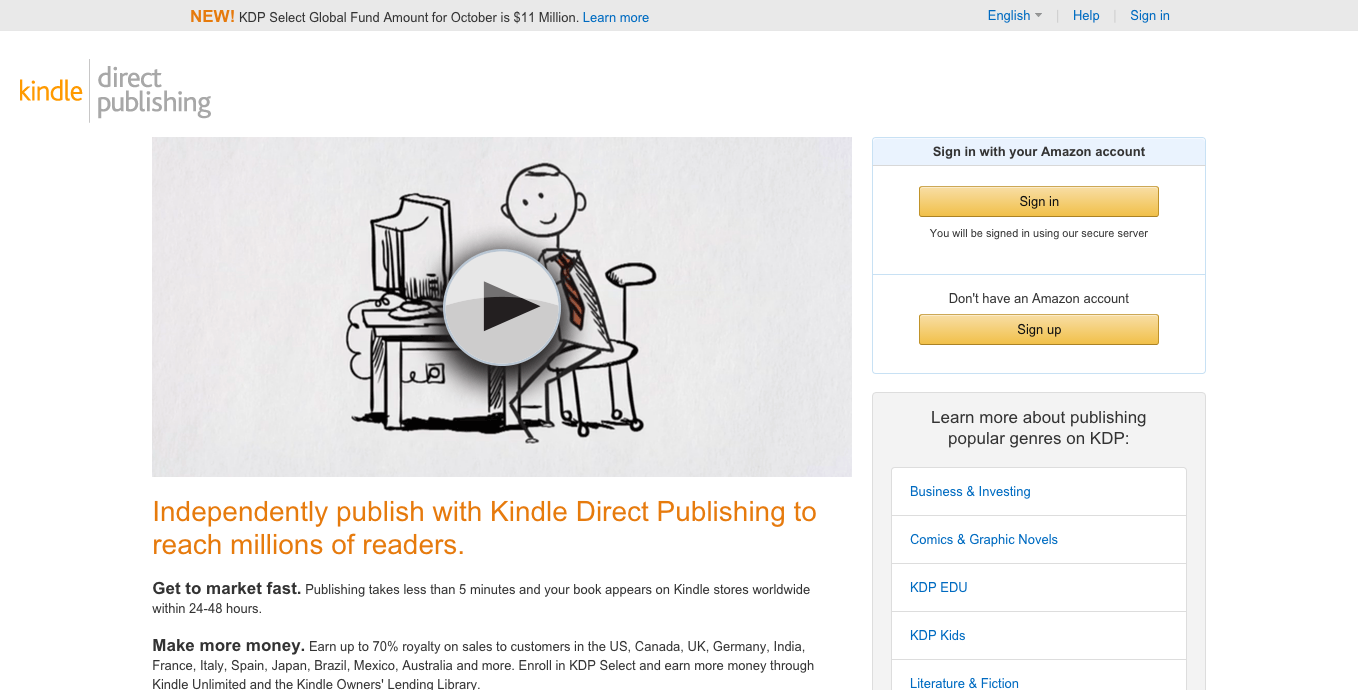 To get started, first create an account with Amazon Kindle Direct Publishing. Or simply sign in if you already have one. Then, visit your Dashboard.
Step 2: Add New Title From Your KDP Dashboard

Click on "Create new title". This will bring up the "Introducing KDP Select" screen below.
Step 3: Enroll in KDP Select

I do this with all my books and have seen great benefits. It enables me to offer my book for free for a selected period after publishing, which encourages Amazon to promote it further and helps me build my email list. You can learn more about KDP Select here.
Step 4: Enter Your Book Title and Subtitle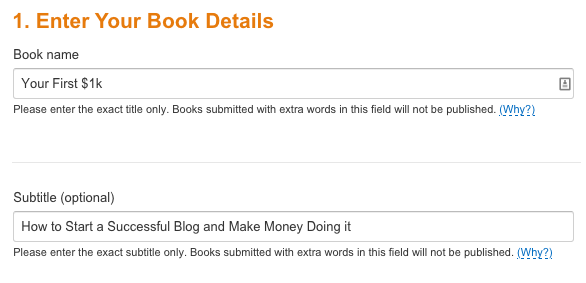 Enter in your book name and subtitle. Tell your readers what your book is about so they know what they will get out of reading it. For bonus points, use keywords that your readers are searching for to increase your chances of being found. Here are 5 more tips for naming your book.
Step 5: Enter Your Book Description

This is your readers' first real taste of your book's content, like the blurb on the back cover of a printed book. Make sure it is well written, interesting and informative enough to give your readers a good idea of what your book is about. You can use some HTML to make your description more engaging.
Step 6: Enter Book Contributors

Click on the "Add contributors" tab to add yourself as an author.
Step 7: Add Author Name

Add in the author's name — that's you! This can be a pen name if you like.
Step 8: Verify Your Publishing Rights

As author, you own the publishing rights to your book, click here to verify that.
Step 9: Target Your Book to Customers

You can choose up to two categories for your book. Choose these carefully as they help your intended readers to find your book. I usually decide on the categories based on competing books that are performing well.