Repurposing content seems like a great way to save time and get more results from your content marketing efforts. You can tap into multiple platforms and reach new audiences without having to create entirely new content.
That YouTube video with thousands of views? Transcribe it into a blog post. A popular podcast episode? Add some slideshow visuals and publish it on YouTube. Makes sense, right?
But repurposing content – even your best, most groundbreaking content – isn't always the best way to allocate resources. Over the long-term, greater results can be achieved by sticking to the fundamentals and doubling down on the strategies that work the best for you. Here are four alternatives to repurposing content that can help you achieve long-term success in your content marketing endeavors:
1. Focus on providing value to your customers
Central to any successful content marketing or SEO strategy is to provide value to your customers. There are few shortcuts that can be made to get results over the long-term without providing value.
If you're repurposing content to save money and energy on content creation, consider that even recycled content does take some time and money — time and money which could otherwise be spent learning what your customers want and providing value through content that's native to a given platform.
It's been said many times, but I'll say it again: focus on providing value, rather than just shortcuts and "hacks", and the results will follow if you stay consistent and promote effectively.
2. Produce content that's native to the platform
What searchers on Google want is different from what Medium readers, YouTube watchers or podcast listeners want. Different mediums provide different user experiences – an audio narration of a blog as a podcast episode simply does not have the same effect.
To truly provide value to people on any given platform you must provide content within the user experience preferences of the platform and on topics that are important to people. Producing content simply for the purpose of producing content isn't fooling anyone these days. With the sheer amount of content available, people can afford to be picky about what they consume. You need to make sure you are offering the best content for the platform that your users are on. And to achieving that takes more than simple transcription or reformatting.
People searching on Google generally want content that thoroughly answers the specific question they had when searching. People often listen to podcasts while they are commuting. The audience in and content on Slideshare is primarily business oriented and very visual.
Each platform has a slightly different user experience and audience preference. Adapt and exceed expectations!
3. Validate one channel at a time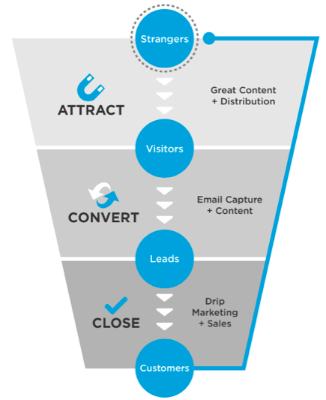 It's not enough to just produce valuable content and hope that people will find it. You need to have a channel for getting people to your content. Content marketing success depends on both the content and the promotion of that content. This is how you reach your audience and convert them from strangers to consumers of your content (and eventually to paying customers).
Each business will have a slightly different top of funnel acquisition channel (or channels) depending on the market. Determining it starts with understanding your customers – and where they find and consume content. Then, analyzing the platforms to see where there's opportunity to stand out.
On Google, this analysis entails searching for the terms your audience is searching for (Google's Keyword Planner is a great tool for this) and analyzing the pages that appear in results. If there is a high volume of relevant searches and few examples of quality, relevant content being published, it's likely that there's a strong opportunity there.
It's easy to spread yourself too thin. There are always a million things you could be doing but often only a few of them will actually work. And order for those few to work you have to be willing to put in the work.
At Alpha UX we rely heavily on guest blogging. This means tapping into the audiences of other publications. We also have a podcast where we tap into the audiences of iTunes and Stitcher. After running the analysis, and testing the medium, we now know that this channels work well for us to bring in new customers.
Once you have reason to believe your customers are consuming content on a given platform, take the time to build on the strategy that's working.
4. Invest in platforms that work to 10x your results
So often, especially before you build a huge email list, your best acquisition channel will be the platforms you're producing and distributing content on.
Google processes 40,000 search queries every second. I'm willing to bet that's a lot more than most companies have browsing their blog — so it could be tremendously beneficial to tap into that audience.
Once you validate a medium for content marketing, much of the game becomes understanding and influencing the levers that are going to get that platform to promote you to its wider audience. For example, understanding how to appear on the first page of Google search results, in the "top stories on Medium" leaderboard, or at the top of a category's best seller list on Amazon can help get you a significantly greater results than you would have otherwise.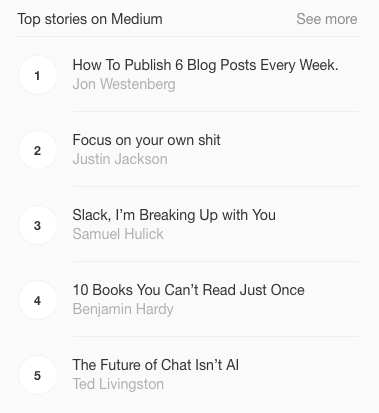 Getting the best possible results from these platforms requires not just producing high-value content natively, but understanding the levers that are going to indicate to the platform that they should be promoting you to their users.
On Google, it's factors like backlinks and relevance to the respective search term. On Amazon, it's downloads and reviews. On YouTube, it's likes and subscribers.
Once you provide these signals to the platform, you can get an exponential and consistent results.
Influencing these levers requires some clever promotional tactics. It often means leveraging other promotion channels such as your email list, other newsletters in your space, Product Hunt, content aggregation sites relevant to your market (such as Reddit), link building, or even paid advertisements to get an initial boost.
As a note of caution, don't overwhelm your network or spread your promotional efforts too thin. With many channels, it takes time to see results. Put your effort into the channels that work to get great results instead of spreading thin and not really getting results anywhere.
With a retail company client, we had been producing in-depth articles on specific topics the market had demand for, and starting seeing significant traffic from Google as a result. We could have repurposed our articles into Slideshares or Medium posts or Tweets or just about anything else. But instead, we focused promotion of our existing articles on the channel we had validated. This led to about 100 backlinks and now we're getting over 25,000 unique visitors per month, about 80% of which comes from Google.
Conclusion
While repurposing content certainly can provide some extra exposure, it's not always the best long-term strategy. Resources could be better allocated to producing valuable content that's native to the platform that's working the best for you, and promoting that content in order to get exponential results.
Even though many see the benefit of repurposing as getting more bang for the buck, it does take time and money. Repurposing content across multiple platforms runs the risk of spreading your efforts too thin and failing to build up a strong audience and get substantial results from any one channel. Your time and money may be better allocated doubling down on what works.
As competition heats up in online marketing, there are rarely shortcuts that can provide sustainable results. Don't let appeals to leisure get the best of you. Put in the work and you will see the results!